Studying for a driver's license exam can be stressful and difficult. It's also something that many of the youth you deal with every day are trying to do right now. We'd like to offer your organization a way to help them. Free of charge, no strings attached.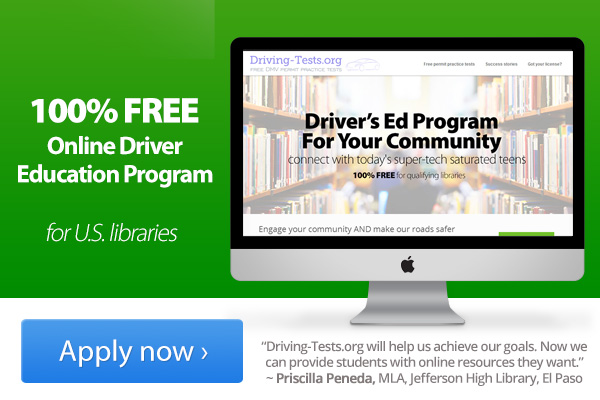 | | | |
| --- | --- | --- |
| | ABOUT THE PROGRAM | |
If accepted into the pro bono program, your library will receive a mini-website, with your logo at the top, so that you can offer our practice tests to your patrons. Patrons will then be able to try numerous practice exams designed specifically for your home state, for cars, motorcycles, and even commercial driving.

The Program will always be free: free to you, free to your patrons, free of ads, and free of cookies that track sensitive information. It's our way of making the road a safer place. Your patrons are not asked to provide their email address, create an account, or share any other personal information, either. View the program FAQ.

You're in good company: Over 250 libraries and schools nationwide have already enrolled into this program. See the full list of our library partners here, and our academic partners here.


Submit your application before 12:00 PM EST on NOVEMBER 15, 2014
| | | |
| --- | --- | --- |
| | ABOUT THE SPONSOR | |
Driving-Tests.org is making a difference in the lives of young drivers across America. We know the statistics on car crashes and teenagers, which is why we're devoted to helping new drivers become safe drivers. We're working with U.S. public libraries, school districts, and community colleges to provide unlimited access to high-quality online driver education resources. Our pro bono program gives teenagers access to library resources when and where they want, thus saving lives by promoting driver education before kids get behind the wheel. Driving-Tests.org is a corporate partner of the American Driver and Traffic Safety Organization, National Safety Council, Governors Highway Safety Association, Military Child Education Coalition, Roadway Safety Foundation, and more.
| | | |
| --- | --- | --- |
| | READY TO APPLY? | |